The Renovation Crew have started work...
Ceiling timbers go in
A new lowered ceiling is under construction with new ceiling timbers being installed
over the weekend of the 12-13 July 2014;
ready for plaster boarding and the fitting of the new lighting system.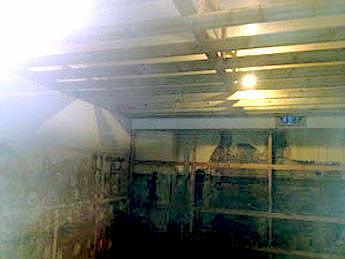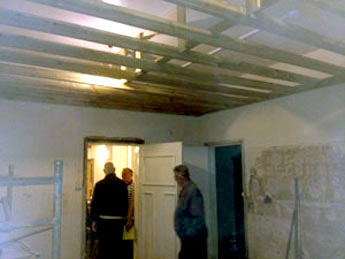 'What's going on here then?'
Fire Doors and Electrical work
14 August 2014 ~ New Fire Doors and casings are being fitted along with new electrical wiring and first fix electrics.
Ready for Plastering and Skimming
20 August 2014 ~ The room is starting to take shape.
The ceiling has now been plaster boarded and one wall lined with a galvanized frame, thick insulation and plaster board,
other areas have been filled ready for plastering and skimming.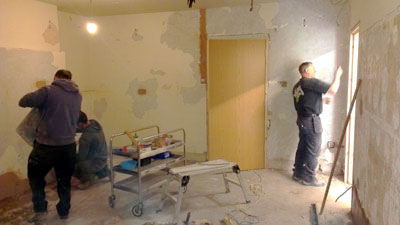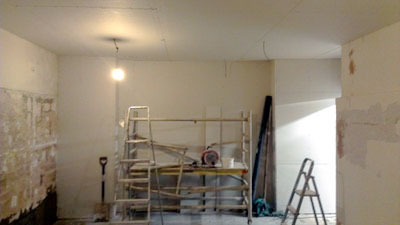 Hopefully the ceiling and walls will be fully plastered and skimmed this weekend.
Ready for decorating
22 - 24 August 2014 ~ The room was plastered on Friday and Saturday.
The doors, architrave and skirting boards were fitted on Sunday,
so once the plaster has dried out it will be ready for decorating.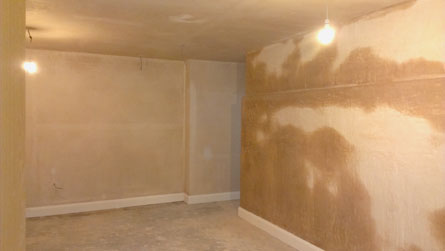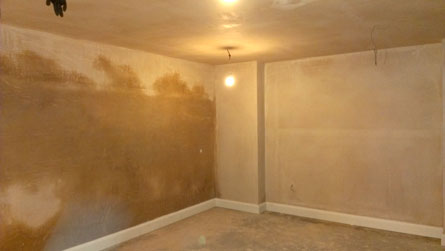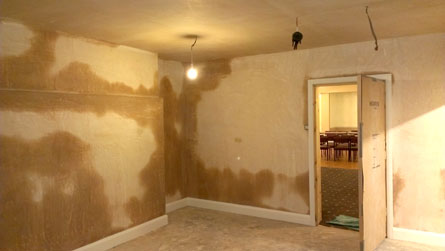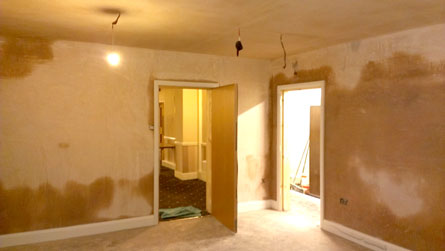 The room is now taking shape ready for second fix electrics, decorating and floor covering to go down.
Nearly there!
The room has been converted through the efforts of the following:

Stripping the room
W.Bro. Michael Rosney


Lodge of Amity & Rossendale Forest No.283

Dismantling the old catering equipment and removal from site.
Decommissioning of services
W.Bro. Les Saddington


St.Aidan Lodge No.6339

Decommissioned electrics for that room.
Bro. Barry Thompson WM


Lodge of Amity & Rossendale Forest No.283

Decommissioned Gas and water supplies and removed redundant pipe work.
The Wrecking Crew
W.Bro. Derek H Smith


Lodge of Amity & Rossendale Forest No.283

Removal of wall tiles, old plaster boarding and tiles and clear site.
W.Bro. Stuart Rayton


Lodge of Amity & Rossendale Forest No.283

W.Bro. Michael Rosney


Lodge of Amity & Rossendale Forest No.283

Removal of stud wall, doors, door casings, architrave and skirting boards.
Conversion
W.Bro. Michael Rosney


Lodge of Amity & Rossendale Forest No.283

Installed new steel stud walling with Kingspan insulation, covered with ply and plaster boards. New lowered ceiling with thick insulation above and finished with plaster boards.
Bro. Barry Thompson WM


Lodge of Amity & Rossendale Forest No.283

Water mains pipe re-routed in ceiling void.
All Alectrix
Rewiring lighting, ring main power and heating circuits, first and second fix electrics. Extractor fan and emergency lighting.
C & R Building & Joinery Ltd.
Made good defective base plaster on walls, finish plastering on all walls and ceiling.
W.Bro. Michael Rosney


Lodge of Amity & Rossendale Forest No.283

Second fix joinery, new door frames, new architrave, new skirting, new fire doors and door furniture.
Atlas Alarms
Fit and tested new smoke detector and strobe with audible alarm.
Finishing
W.Bro. Michael Rosney


Lodge of Amity & Rossendale Forest No.283

Painting ceiling, walls and all woodwork.
W.Bro. Derek H Smith


Lodge of Amity & Rossendale Forest No.283

W.Bro. Stuart Rayton


Lodge of Amity & Rossendale Forest No.283

W.Bro. Derek H Smith

(Master Craftsman)




Lodge of Amity & Rossendale Forest No.283

Floor preparation, fit new carpet and ribbed mat at kitchen doorway.
W.Bro. Stuart Rayton

(Apprentice)




Lodge of Amity & Rossendale Forest No.283

~ FINISHED ON TIME....
A BIG THANK YOU TO ALL CONCERNED ~